Kelsey Gritter

Kelsey was a Master's student in Ecological Mathematical Modeling working with Dr. Mark Lewis and Dr. Evelyn Merrill. She worked on a movement model for the transmission of chronic wasting disease(CWD) that includes environmental factors.
Laurens Put
Laurens was a CWD Research Assistant working on the statistical modelling and R programing as well as the ShinyApp manual and report writing.
Jingjing Xu

Jingjing was a postdoctoral fellow, under the supervision of Dr. Mark Lewis, Dr. Hao Wang, and Dr. Evelyn Merrill, in the departments of Mathematical and Statistical Sciences and Biological Sciences. Jingjing developed differential equation models to advise the control of the chronic wasting disease (CWD) spread in wild deer populations.
Jingjing is currently a postdoc at York University.
Peter Smolko

Peter was a postdoctoral fellow in the Merrill Lab.
Johanna Thalmann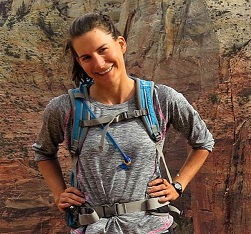 Johanna organized, managed, and conducted field work (and report writing) for the CWD project.
Greg Melvin

Greg was a field technician that assisted with field work, data management, data analysis, and report writing for the CWD project.
Eleanor Stern

Liam Horne

Liam was a field technician that assisted with field work, data management, data analysis, and report writing for the CWD project.
Eric Spilker

Eric completed his MSc in the Merrill Lab where he studied predation risk on the Ya Ha Tinda long-term elk monitoring project. Eric joined the CWD team to assist with data analyses, field work, and producing media for public outreach.
Eilidh Smith

Eilidh joined the project as a research technician in May 2017 having previously worked on the Ya Ha Tinda longterm elk monitoring project from May to November 2016. Eilidh studied Zoology at the University of Glasgow and did her MSc on the impact of artificial waterholes in the Savannah biome at the University of South Africa.
Trevor Pettitt

Trevor joined the project in the summer of 2014 in a joint collaboration with the Government of Alberta in an effort to manage CWD on the landscape. He came back in 2015 to understand the workings of a new proximity detection collar system and how they would function on live captive deer. In 2016 Trevor completed a BIOL 499 project linking CWD spread to genetics while starting work on collaring wild deer. Trevor continues to assist us with deer captures. Current position: CWD Field Coordinator, Environment and Parks Division, Government of Alberta
Catherine Cullingham

Alex Potapov

Project work: Epidemiological modeling of deer of CWD
Current position: UA Department of Oncology and Alberta Health Services -Senior Research Assistant, Data Analyst.
Tom Habib

Project work: Ecology and management of white-tailed deer (Odocoileus virginianus) and mule deer (O. hemionus) of east-central Alberta in relation to chronic wasting disease
Current position: Alberta Biodiversity Monitoring Institute-Research Coordinator
Barry Norbert

Project work: Landscape ecology of mule deer (Odocoileus hemionus) and white-tailed deer (O. virginianus) with implications for chronic wasting disease
Current position: Wildlife Biologist – fRI Research – Caribou Program